The Loss of the Steam Tug Nyora
On 9 July 1917, off Cape Jaffa, South Australia, the steam tug Nyora was towing the schooner Astoria, when it foundered with all hands. Among the 16 crew on the Nyora was cousin Sampson Henry Crocker, 48, a fireman on the tug. Miraculously the Captain and one crew member were picked up alive by the keepers of the lighthouse at Cape Jaffa, but 14 crew were lost. Sampson left a widow and six children.
Sampson was the grandson of John and Mary Crocker, a farming family from Stroude, near Ermington, Devon, who had migrated to Hobart, Tasmania, with their seven children, aboard the Mary Anne in 1829. Some of the family had settled in Tasmania, some had gone on to New Zealand. Sampson's father had been the captain of a lighterman in Port Melbourne, Victoria. Sampson had been a fireman for Huddart Parker and co., owners of the Nyora, for 16 years, and this was his second year on the tug. He had been a fireman on Huddart Parker's coastal trader Despatch when it sunk at Lake's Entrance in 1911, without injury to crew or passengers. In 1917 his eldest son Samuel was a Petty Officer on the inadequate HMAS Sleuth.
Nyora had been towing the Astoria from Port Pirie to Sydney; a four-masted American schooner with auxiliary steam power, but the auxiliary motor had broken down . On the morning of 9 July a gale was blowing. The tug was carrying forty tons of coal in bays on her deck, and it probably shifted in the gale. The huge sea smashed in the engine room door and flooded the engine room. The pumps were overwhelmed. These circumstances caused the tug to list. The crew cast off the tow hawser, and the tug moved off two miles to windward from the Astoria, but despite all, the Nyora foundered. With no power the Astoria could do nothing to help. They saw no signs of a lifeboat. The Astoria was later taken in tow by the steamer Yarra, and was towed to the safety of Guichen Bay.
The Nyora had only been launched 8 years earlier. and had been especially designed for heavy ocean towing and for fire and salvage service. She was described as one of the most powerful tugs in the Commonwealth (Australian) waters.
The Marine Board that enquired into the disaster found that the loss was caused by the severe gale that had arisen on 9 July, with every care taken by the Master, and that no blame was attachable to anyone on board. Special reference was made by the Board to the brave conduct of the two lighthouse men in effecting the rescue of the two survivors.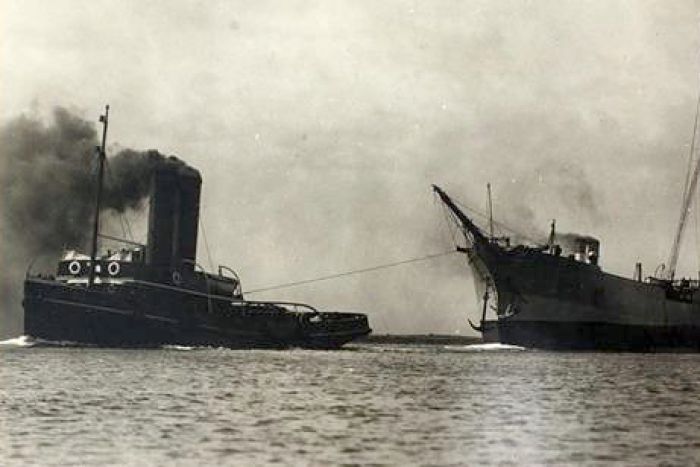 Steam tug Nyora
More Tragic Accidents in the Family

In 1871 William Coombe, 28, was digging out sand for his builder father from some pits near Pothanger Corner on Dartmoor, when the land gave way and William was buried along with one of his colleagues. The other man escaped with light injuries, but nearly every bone in William's body was broken and he must have died instantly.

On Thursday 19th April 1900 Jane Higgins , 56,was returning along Liverpool Road, Patricroft, Manchester with her husband William Boydell, in their pony and trap. As they were passing a coal cart, a woman kicked a cardboard box into the road, their pony shied away to avoid it, collided with the cart and threw Jane out, fracturing her skull.

Lucy Osborne, just one year nine months old, drowned in the river at Cullompton when she wandered off from her home, in 1901. Her elder brother and sister had drowned in the mill stream there in 1899.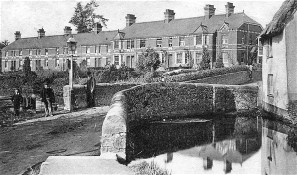 The area of Cullompton where Lucy Osborne drowned
In 1887, Peter Snow, aged 76, was in conversation on Rose & Crown Hill, Sandford, when a trap was overtaken by a horse-drawn waggon alongside him. Something startled the horse, resulting in Peter being crushed against a wall. He claimed to be not badly hurt and made his way home, but died later that day from the shock of the accident.

On 6th May 1895 Edith Causley had been playing with friends in some gorse near her home at Trusham. One of the girls had some matches and set light to the furze. A visitor investigating the burning gorse found Edith on the ground crying, her clothes burnt off. When summoned, the family doctor advised that she be sent to the hospital in Exeter. She was taken there on the following day, and was found to be suffering from severe burns to the chest and abdomen. Her condition deteriorated and on the following day she died, aged just 12 years.

Doris Conibear was thought to have drowned in the Great Slave Lake, in Canada's North West Territories in 1915. She had gone to the wharf to get some books coming in on one of the boats. It is thought that she fell through the ice. She was 17.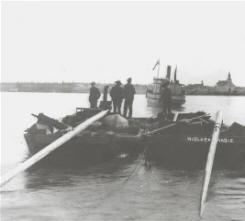 Great Slave Lake, North West Territories, Canada
Albert Heard,
30, of Beer Farm, Cruwys Morchard, shot himself in 1931 by accidentally discharging a shotgun whilst climbing through a barbed wire fence, when the trigger caught on the wire.
Thomas Lynes
was killed in 1946, barely a year after being released from a German POW camp where he had spent more than two years. Tom was digging trenches on a building site when the walls of a trench collapsed on him and another man. The other man was extricated alive and survived, but Tom was dead when the rescuers reached him. He was just 22.
At 75, in 1966,
Lydia Langworthy Moulder, née Madge
was accustomed to lighting her gas fire with a gas poker. Unaware that it hadn't lit properly, she fell asleep and was accidentally gassed by the carbon monoxide fumes. Neighbours tried to save her, but she never regained consciousness and passed away in hospital.
My gran,
Emma Kathleen Pitts,
76, was visiting her son at Sandy Bay, Littleham, in May 1954. She went out for a walk in the surrounding countryside, and was caught up in high winds. Unable to keep her balance, she was blown over and in the fall she suffered a sub-dural haemorrhage and cerebral concussion, which proved to be fatal.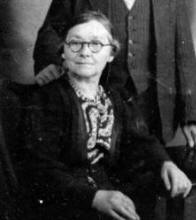 Emma Kathleen Pitts
"Things just seemed to go too wrong, too many times." *
It is estimated that 20% of the population will experience suicidal feelings in their lifetime. 6.7% will take action to end their own lives. There are many reasons why people may try to kill themselves: perhaps to escape what they feel is an impossible situation; to relieve unbearable thoughts or feelings; or to relieve physical pain or incapacity. Their life may have become too difficult or hopeless because of external events like debts or insecurity, a relationship break-up or the symptoms of a mental health problem. These family members deserve our sympathy for the emotions, thoughts and agonies that drove them to their untimely ends.
Those family members who took their own lives include;
James P

ollard

, died 1842, aged 21
Rosa Mary R

alling

, died 1877, aged 24
Sarah H

attin

née C

happle

, died 1882, aged 70
Samuel H

aydon

, died 1883, aged 67
Nicholas Duer or Dare LOYE died in 1889, aged 60
Edward P

ollard

, died 1908, aged 53
James H

aydon

, died 1908, aged 68
Mary B

oydell

née S

outhern

, died 1928, aged 57
Charles G

ibson,

died 1932, aged 27
John S

harland

, died 1935, aged 51
Arthur Leonard P

ickett

, died 1942, aged 31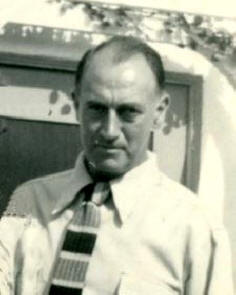 Cyril Baggott in 1948
Cyril B

aggott

, died 1950, aged 47
Ada M

ortimore

, died 1970, aged 69
Reginald George R

oberts

, died 1979, aged 60
Barbara Boydell S

utcliffe

née S

haw

died 1986, aged 55
Stephen L. P

itts

died 1997, aged 54
Matthew C

ollier

, died 2001, aged 22
There are many myths and prejudices attaching to suicide, one being that if their mind is made up, there is little one can do to help those with thoughts of self harm. But there may be ways that your help and intervention can save a life. The Samaritans' site has some suggestions about how you can help someone with suicidal thoughts.

* From one of Tony Hancock's suicide notes.


Award for Joseph Sharland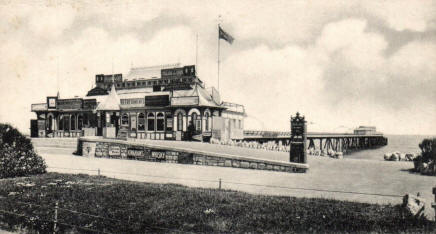 On September 10 1907 a young lady holidaymaker, despite being warned against it, ventured too close to the pier at Teignmouth when bathing in the sea. She was taken by the breakers, and although a good swimmer, began to panic, and call for help. Joe Sharland was the pier caretaker, and on duty at the time. He seized a lifebuoy, jumped into the sea, and swam to the young lady, whom he was able to hold up. He was joined by Percy Foster, the secretary of the Swimming Club. The two men continued to support the young woman despite the battering waves, until the Coastguards could launch a boat from the beach, and brought the woman onboard, apparently none the worse for her experience. The same could not be said for Joe Sharland and Percy Foster, as they had been thrown against the piles of the pier, which were covered with barnacles like knives, and the two men were badly cut up.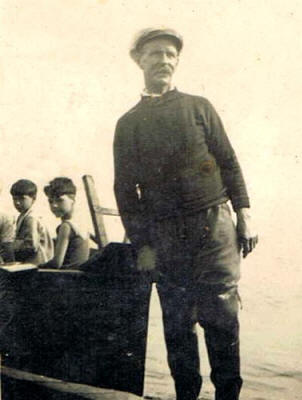 This was not the first time that Joe Sharland had pulled someone in trouble from the water; mention was made in the local Press that he should be recognised for his valour.
The family were from Mid-Devon but Joe's father and other family members had moved to South Devon. It is possible that Joe had been sent to Mount Edgecumbe Industrial Training Ship in Plymouth as a youngster. At some time he became proficient with boats, and worked on yachts and as a boatman before becoming the Teignmouth Pier Attendant or Caretaker in the early years of the C20th. By 1932 he was being described as Assistant Pier Master. He certainly became known as a Teignmouth character, as the caricature below implies.
On 6 January, 1908, at the open sessions of Teignmouth Magistrates Court, Major H.A. Schank, honorary secretary of the Royal Humane Society, asked the Chairman of the Magistrates to present Joseph Sharland with the Society's honorary testimonial on parchment, for his courage and humanity on 10 September 1907 for having gone to the rescue of Mary K. Snell who was in imminent danger of drowning off the pier at Teignmouth. On receiving the parchment from the Chairman, Joe said that "he had done his duty, and should be ready to do it again if occasion required it".