The Rector, his Wife and the Curate
In May 1914, scandal overtook the Reverend Theophilus Rodick Willing at Blackpool Magistrate's Court, in messy and public revelations of a family dispute. The Court heard accusations of drunkenness and abuse, unfaithfulness, seduction and betrayal, secret correspondence, forged confessions, and shocking suggestions concerning blackmail and a brothel. The scandal involved Theo, his young wife, his best friend the curate of South Shore Parish Church, Blackpool and the Freemasons, all stoked-up by scheming and outraged in-laws. Little could Theo have guessed when he married his 19-year old bride in Blackpool, that in less than a year, events would land him in the town's Magistrate's Court accused of desertion, and facing an order for maintenance. Annie Willing, nee Stafford, the daughter of Henry Stafford, painter and decorator, charged that life with Theo was one of torture, forcing her out of the marriage home, his behaviour such that she could not bear to live with him, and thus this state of affairs amounted to his desertion of her. Theo insisted that not only had he not deserted her, but that he fervently wished her to return to their home in North Hill, Cornwall, where he was Rector of the Parish. Her lawyers claimed his pleas were bogus. The court sat from 10.45am to 7.45pm hearing the "Amazing Allegations" as the local paper described them. Lawyers for the two sides clashed fiercely throughout the day.
Rev. Theophilus Willing

Annie outlined her allegations first - her evidence implied that Theo was cruel and brutish. She alleged that within weeks of the marriage she found that he drank to excess. She claimed he tried to force her against her will to drink whisky, and smoke cigarettes. He gave her no housekeeping, verbally abused her and threatened to thrash her. He would not give her the money to visit her parents in Blackpool. She made the trip, only after being sent the money by her father, and she returned to Cornwall with a friend, Miss Devon. One night, alarmed at his drunken attitude, when he threatened again to thrash her, she spent the night in her friend's bed. She claimed that Theo took his tools and tried to break into their room. They pushed chairs against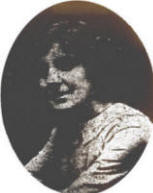 the door. Weeks later, when another friend was staying, Theo insisted that Annie and her friend should stay in a Temperance Hotel in Plymouth, where he would join them - this was engineered so that she should not see her father who had announced he was coming to North Hill. The first evening there, hearing voices in the corridor, she opened the door to find her husband talking to a young woman, only half-dressed in her camisole, smoking a cigarette. Subsequently Annie learned from the woman that "she was there for the purpose of receiving sailors". Shocked, Annie demanded that the party move to another hotel. Shortly after this incident, only seven months after the wedding, the marriage deteriorated beyond salvation. Theo unaccountably rushed off to her home town of Blackpool, sending Annie to stay in Brighton. She alleged she was left there for two weeks, friendless and penniless. She wrote to her husband and to her father. Theo returned to Brighton unannounced to meet her - his manner was cold and hostile. He told her that he had heard something about her in Blackpool, "that he had wished he had never seen her, and that she should leave him". He told her to go to the devil and treated her, she claimed, "like a pig", refusing to stay the night with her in the hotel. Her father arrived in Brighton later that day, and after a confrontation with Theo at the station the next day, he took his daughter with him back to Blackpool. And thus their brief marriage seemed to have ended.
On the face of it, Annie's story sounds compelling, and sadly not so unusual, at a time when women were still very much regarded as part of the man's chattels in a marriage, her story differing only from numerous other sad tales in that her husband was a mild looking young clergyman. But Annie's demeanour during cross examination was at times uncooperative, and her answers sometimes glib, evasive or contradictory. Her husband's lawyer began to tease out an altogether different dimension to the story, despite attempts by Annie's lawyer to prevent him.The Reverend Fearnley Youens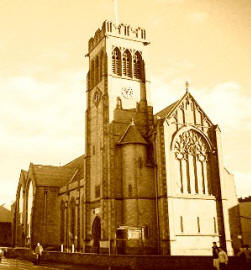 was curate at the South Shore Parish Church where Annie taught Sunday School and was an active church member. Youens had been Theo's best friend at University, and he had introduced Theo to Annie. What began to emerge in court was the allegation that Annie had been closer to Fearnley Youens than was seemly. During their engagement Theo had discovered a letter written by Annie to a gentleman, signed "your loving Phyllis". The court heard that shortly before the wedding whilst Theo was in Jersey on business, something had happened between Annie and Youens. Annie's solicitor intervened to prevent further discussion of what may have occurred. Then followed an accusation that Annie's mother had demanded a £100 of the Rev. Youens shortly after the wedding. The demand was apparently linked to a confession Annie had written for her mother, a shocking cofession describing what had occurred between her and Youens - a confession that Annie subsequently withdrew in letters written to Youens. This confession and the impropriety it alleged, committed by Youens, with Annie's apparent acquiescence, was at the heart of the scandal. Her father admitted that he had written secret letters to his daughter at North Hill, and sent her money so that she could come to Blackpool and verify her confession in person to the Freemasons, against Youens. When cross-questioned, other Stafford family members acknowledged a conspiracy of spite against Youens. Theo's solicitor seems to have come closest to the mark when he declared, "Three weeks after the wedding an allegation was made by the girl's mother to Mr Youens implicating him and the girl, and demanding money. The matter was taken up by Mr. Stafford who tried to get evidence to bring before the Freemason's so as to have a hold over Mr Youens. When the confession arrived, Stafford started to make use of it. The matter came before the Masons but nothing happened and the thing subsided. The girl went back and lived with her husband until an announcement was made in the papers that Mr Youens was to be married, when the matter was revived to punish Mr Youens out of spite." It was when he heard of this alleged impropriety between his wife and his best friend, that Theo had rushed to Blackpool to try to get at the truth, sending Annie to Brighton, away from the row. Then on hearing the allegations in full, Theo had returned to Annie in Brighton to confront her. But her father had arrived later to take her back to Blackpool to stir things up again.
It seems that in time, Theo soon either came to disbelieve that anything had happened, or forgave his wife and his friend.

But what of Annie's allegations against her husband? It was established that there was no suggestion of impropriety in the incident with the half-dressed woman in Plymouth.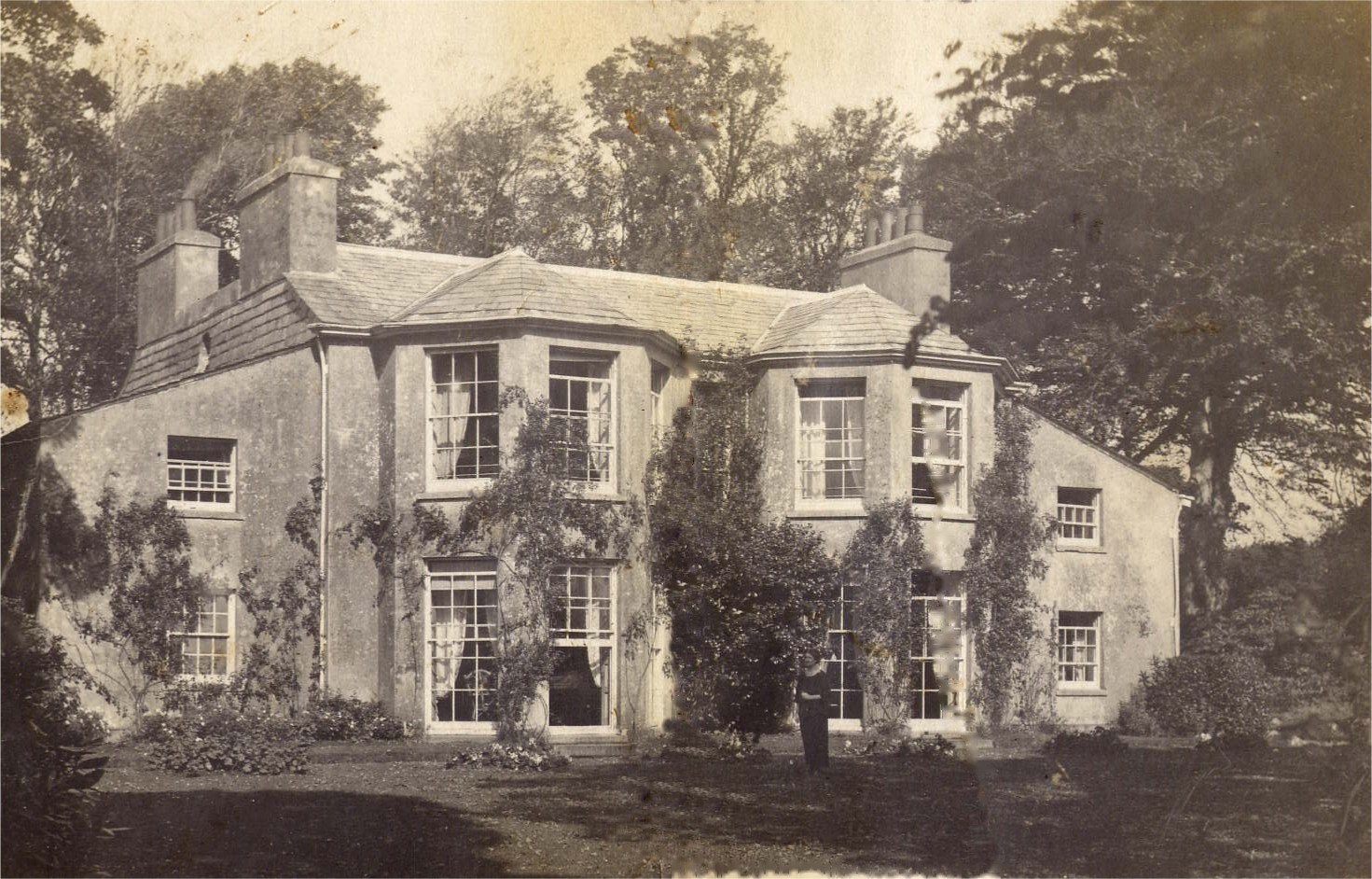 North Hill Rectory, Cornwall
Several witnesses, including Annie's friend and the family servants testified that there had been no evidence of harsh treatment of Annie in Cornwall, nor of excessive drinking. Letters were produced from Annie to her husband that were couched in the most tender terms. It transpired that having only just come into the living at North Hill, with no tithes yet received, Theo was short of money, and had been unable to afford an allowance for Annie until he had become financially more secure.
Rather strangely, Annie seems to have insisted on being called
Miss
Willing when she was away from North Hill, and would pass herself off as Theo's sister. The Court learned from the letters she wrote during her two weeks in Brighton that, far from being abandoned, friendless and penniless, she had struck up a friendship with a clergyman and his family in her hotel, who knew Theo, and she went to the theatre with them. Pretending to be single, she seems to have become over-friendly with the son of the family, who subsequently wrote to her.
We can conjecture perhaps that Annie, very young and immature, and used to a busy social life in Blackpool, where she was a successful and celebrated singer, found herself married to an older man, confined in a remote rural parish, in a large and gloomy Rectory. Had she discovered too late the reality of her married life? Pretending to be single probably reflected her wishful thinking. She perhaps saw an end of the marriage as the only way to recapture the life she had led, and although she obviously had some affection for Theo, she was content to be drawn into her parents' malicious conspiracy as a way out of the marriage.
However culpable Annie and her parents in all this, it is difficult to accept that the smoke was without fire; it seems likely that there was something in the behaviour of both Theo and Youens that was inappropriate.
Nonetheless, after their marathon sitting, the Bench was unconvinced by Annie's story, and they announced that they would not make any order for maintenance. At this, Theo's solicitor told the court that his client was still anxious for his wife to return to him, but if she still refused, then Theo would not see her penniless, and would make her an allowance for her maintenance.
Annie was not to return to the marriage. Their separation became permanent and legal, and eight years later Theo was to marry again and have three children. He remained as incumbent of North Hill until 2 years before his death in 1967. Annie was to have a daughter apparently with no permanent partner just 14 months after the court case. She married James Forrester in the summer of 1916, the couple had another daughter and the family migrated to the US in 1919. They settled in the Bronx at first and then New Jersey. After James' death Annie moved back to the UK. In 1939 she was living with her daughter and son-in-law at 52 Lache Park Avenue, Chester. She died in Birmingham in 1972.
Eight weeks after the bitter court hearing, in July 1914, the world was plunged into a rather more momentous dispute that would change it for ever.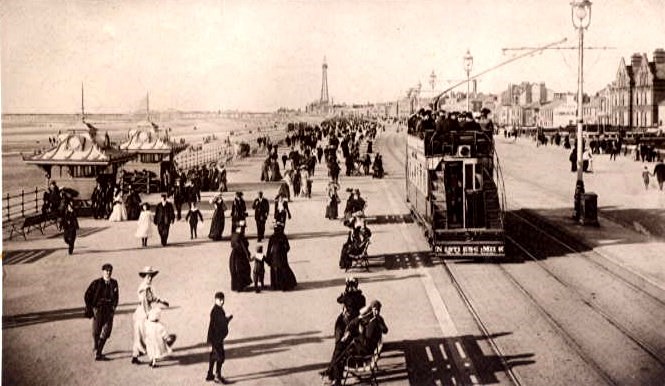 Blackpool about 1914