Research sites for those with a particular interest in Devon families
An excellent message board - active and useful , thanks to the help of many generous people who frequent it daily. A must if you are researching Devon families - all kinds of queries answered and look-ups done.
Instructions on Terry Leaman's helpful site on how to subscribe to the Devon e-mailing list to get those queries answered
Parish register extracts and more - great site for Heard researchers.
Transcriptions of parts of the 1901 Census for Mid-Devon Parishes
Online transcriptions of Census Returns for Cornwall - an ongoing project, with 1841 and 1891 complete
A mixed bag of data but includes real gems in the shape of online transcriptions of Parish Registers for Devon parishes of Hartland, Clovelly and Parkham
As well as a great message board (see above) access to invaluable publications.
Has a virtual archive of Births, Marriages and Burials, of Directories and Census returns, and other documents
A " Mid Devon Medical Miscellany", the site is full of great stories and pictures of the fascinating characters who were Bow's doctors and patients.
Genuki's guide to and gateway for the surviving pre-1841 Devonshire Censuses
Excellent site with Dartmouth history and family history with inline resources
Genuki list of civil registration districts from 1837-1974
Attractive site with lots of FH information and interesting family items about this mid-Devon parish
A growing database of Devonshire local and family history transcriptions and source material - loads of interesting FH topics


An OPC's site with surname sources and transcriptions of Parish Registers and more for parishes to the West of Exeter around Dunsford and Ide
Census and Directory Transcriptions, Family Trees, and other material mainly related to Torbay, from another Online Parish Clerk
The aim of Devon Gen Web is to provide links to Genealogy and Family History resources to help researchers find local resources and reference material. Useful site with surname index.
Genuki is an essential source for the family historian. Thanks to Brian Randall the Devon pages seem to offer much more than other counties - a cornucopia of source material, transcriptions, facts and links can be found in the Parish pages there. But the whole massive site is absolutely brimming with information on all aspects of family history. Next place to look for Devon FH queries if the Devon FHS WWW site, and Google haven't come up trumps. Difficult to stress enough just how much there is for the family historian here.
Dedicated to the promotion and preservation of Devon's Archives, this site provides some useful transcriptions of 18th century documents including names of qualifying parishioners for freeholders and oaths of allegiance.
Genuki's quick access to the names of FODA's Devon Freeholders in the 18th century. Also available on the FODA site
Entertaining and informative Exeter site, with some fascinating historical facts as well as apposite comment on current issues, a wealth of pictures and topics.


Search the IGI by Devon Parish - and of course search other counties similarly

Devon Online Parish Clerks
Introduction to Online Parish Clerks, and how to contact them for Devon Parishes
Oath rolls contain the names of over 25,000 Devonians, some one in five of the adult population of 1723, who signed loyalty oaths as required by law. The names are transcribed here.

Middle names are often an invaluable clue to mothers or grandparents families. This index is derived from the IGI for Exeter
Access to records of burials and graves for Exeter City's Higher and Lower Cemeteries ( NB - not parish church graveyards)
Notable monuments, wall plaques and tombs in Devon churches
Well researched site for this society dedicated to promoting and bringing back the ancient sport of Devonshire wrestling as practised by Abe Cann
Transcriptions of Parish Registers for Upottery, the Somerset/Devon border and Somerset parishes, as well as some surname indices and look-ups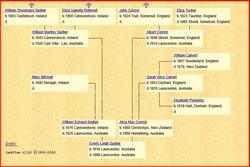 More family histories on the web, most directly linked to families on this site.
Message board for international Heard researchers


Third cousin Nicholas and Elizabeth Prettejohn Pitts, his in-laws, his house and his pedigree. Ian owns the splendid Pitts portraits


Several families in common with this site - South Hams


A South Devon Family - linked by marriage to our Willings and to the Pitts family


Lots of information on this site, including references to family members on these pages. Also Aveton Gifford's parish register transcripts


A comprehensive family history site, with links to Crockers and other South Hams families on this site. Not easy to navigate. Try starting with the surname index.


Some transcriptions, indices and links to Huxtable Researchers on this North Devon family


Another family with South Hams connections, and links to families here. Good mix of resources


The history of this South Devon and Plymouth family. Nice looking site.


Linked to our Colebrooke Turners.


Good -looking and interesting site dedicated to Abe Cann's in-laws


Has details of Trelivings who are connected to the Leamington branch of Heards


Comprehensive coverage of our Blackler family and their in-laws


Devon and Cornwall families linked to our Feys. Found this to be a useful site.


Very impressive Boydell genealogy to pre-Conquest, the source for Boydell information on this site, and a helpful contact for Boydell researchers


Bill Doscher's Boydell history - similarly impressive genealogy and another helpful guy. Great family!


Family history of one of our few Scottish connections, linked to our Donalds


Has links to our Willing family and includes Pitts family, connection to ours not yet established


History and genealogy of an ancient Devon family


Connected to our Petts and Brights


Linked circuitously to our Wensleys and Wallers. Crediton Drapers for some time and part of the High Street's history


From Culmstock and Wiltshire


The Jones family here links to our Huxtables


An ancient Westcountry family with roots in Devon and Cornwall


We share Clark ancestors with this family


Another ancient Devon family, well established throughout the county


Descended from our Devonshire Picketts


These Mitchells link to our Mid-Devon Goviers and Coles


Blights and Petts with links to our Wrights. This link does not always work.


South Hams Family, with marriages to Pitts and others described here. Rich in detail, THE site for Michelmores and their variants.


A Devon family with connections to Crediton and mid-Devon parishes. Nice looking site. Maybe linked to our Pollards


The early history of Haydons. No connection to ours found yet.


Heards of Essex and Eastern England. Not related to our Devon and Cornwall Heards


A Brown family history, incorporating some Essex Heards


These Heards arrived in New England in the 17th Century






Museums, Archives and Libraries
The Access to Archives database contains catalogues describing archives held locally in England and Wales and dating from the eighth century to the present day, and is incorporated into the National Archive search engine.


Archives of the UK Government at Kew


Historical records of Devon. Location of most parish registers and many wills. Search service available. Now part of the South West Heritage Trust.


Incorporates Devon and Somerset Archives and Local Studies centres, as well as the Rural Life Museum, Glastonbury, the Brick and Tile Museum, Bridgwater and The Museum of Somerset, Taunton.


The NMM Collections Online enables you to access 9000 of their objects and artefacts related to the sea, ships, astronomy and time.


The Maritime History Archive collects and preserves documents relating to the history of sea based activities in the North Atlantic region.


Details of services for researchers and much more from this international institution


Some fascinating aspects of Victorian London


Gateway and general information for the library and archive of the Huguenot Society


Database of the collection and online exhibitions for researchers of agricultural and rural life


Includes a virtual museum of some campaigns of the Devonshire and Dorset regiments


FH resource index, research service and local FH Group




Immigration and emigration
Searchable database of emigrants who arrived at Ellis Island, New York


Searchable database of emigrants who arrived at America's first immigration centre, from 1830 -1892


Interesting Genuki article with link to name database for emigration from Devon between 1818 and 1868


Passenger lists for tracing your immigrant or emigrant ancestors


Index of Australian immigrants, with some personal data


Australian gateway to a number of sites with family history records, including databases of ships passengers and emigrants.


Migration records of the National Archives of Australia and associated material


Searchable Index of Unassisted Passenger Lists


Searchable Index of Assisted Passenger Lists


Free online British convict transportation register, searchable


Searchable database of Tasmanian convicts


Transcriptions of passenger lists


Search for family in the archives of Tasmania with this Tasmanian Government on-line name index.


Shipping and passenger information for Australia and, to a degree, New Zealand. Arrival and departure details, and some background information


The Genealogical Society of South Africa's searchable database for ships' passengers to South Africa. Ongoing development.


There were a significant number of Huguenot immigrants to Devon. This site summarises a selection of their surnames






A selection of miscellaneous research sites
Find out about DNA testing projects


Has a database listing the 1.7 million men and women of the Commonwealth forces who died during the two world wars


For records of birth, baptism, marriage, death and burial taken from non parish sources, such as non conformist registers. Pay site.


Links to all the county sites that offer online transcribed indexes to the original records held by the local register offices.


Searchable online archive of newspapers from the British Library's collection. Ongoing project. Subscription or pay per view site


Military records of over 5 million British Armed Forces personnel cross matched with over 4000 units of the British Armed Forces going back to 1350. Subscription site, with some free searching facilities.


Searchable database of the armed forces members who have lost their lives since the end of WWII


A searchable database of memorials commemorating mariners and victims of maritime disasters


Imperial War Museum's searchable database of war memorials, and associated pages exploring family history and the First World War


Includes all physical and online genealogical services of Library and Archives Canada


New Zealand Government records for births, deaths and marriages - searchable online database.


Papers Past contains more than three million pages of digitised searchable New Zealand newspapers and periodicals for the years 1839 to 1945


Unusual site with a good variety of resources on Anglo-Indian Family History


From one search engine there is access to 1901 and 1911 census of Ireland, some church records, and other documents


Births, Marriages and Deaths for Ireland, with some other records including a rather puzzling presentation of some census returns


A searchable database of 120,000 individual children's admission records between 1852 and 1914 for hospitals in London and Glasgow


Explanations for all those different types of kinship - who is your third cousin twice removed?


Village by village contact site for anybody researching family history, genealogy or local history in the UK and Ireland


Commercial site that acquires old legal documents, contracts, leases etc and offers transcriptions or documents for sale. Search by name or location


Fully searchable details of Old Bailey trials from 1674 to 1834, with helpful historical background


Useful topics associated with Romany and Traveller Family History, including a page of links


Fascinating miscellany of Romany Family History on two companion sites


A fully searchable archive of 240,000 manuscripts concerning life in London from 1680-1820 searchable by name or keyword.


The Totnes archive contains over 45,000 digital photographs of Totnes and the South Devon area including the South Hams. Prints of the images may be purchased for a modest fee, and publications are available.


A massive database with millions of sources supplied by the National Library of Australia. The newspapers are a particularly useful source.


Searchable indexes of BMDs in Victoria, Australia, and online ordering


Searchable indexes of BMDs in Western Australia, and online ordering


Searchable indexes of BMDs in South Australia, and online ordering.This is the site of the South Australian Genealogy & Heraldry Society Inc. It is not complete. The South Australian Government does not make records available online.


Searchable indexes of BMDs in New South Wales, Australia, and online ordering


A great service provided by this site -request free of charge, photographs of headstones in cemeteries in Victoria, Australia and for a few cemeteries in Western Australia, South Australia and New South Wales. Also some War Memorials. And very prompt responses.


Several ongoing projects - includes transcriptions of Canadian 1901, 1906, and 1911 censuses in searchable form


Ongoing project - a database of clergy of the Church of England between 1540 and 1835


Extremely useful information about England and Wales Birth, Marriage and Death Certificates


Ongoing project to provide searchable access to all cremation and burial records for the UK. Initial finding search free. Details by subscription.


Was your ancestor an Ackerman or a Zincographer? Check out the meaning of old job titles and occupations here, with associated links


London Gazette. The archives of the 20th century of this newspaper for official record are available to search online


An index to names from the Victorian Navy


Really useful site enabling you to search for distribution maps of specific surnames in 1881 census and in 1998.

The organisation for those researching all occurrences of a surname - has a contacts list of surname researchers


Matching system that automatically identifies members who share the same ancestors based on the 1881 census. Too much data entry for my taste


History of the Workhouse, with useful regional pages that include maps and photographs

A collection of family deeds, for which transcriptions can be purchased, and some original documents also for sale. Browse for names or locations.
An explanation of the workings of the Poor Law, and the problems associated with Settlement


Great site with details of pubs, many now disappeared, in London and several counties including Devon.


Links to a miscellany of sites about pubs and inns


South Hams manor house formerly owned by the Pitts family; now offering accommodation. Probably a great base for researching your South Hams family.


Meanings of archaic medical terms - useful for interpreting death certificates, and other useful pages


More names for diseases ancient and modern


Fascinating insight into the history of mental health care. An index of County Asylums. There were over 600 pauper lunatics in 1844 Devon


Transcriptions of a good number of Somerset parish registers


This online calculator uses official UK inflation data to show how prices have changed and what money used to be worth


Membership, Library, Events and Courses


Mostly from Devon. Often useful for dating photos


More information on early photographs. Helpful site that will respond to queries re known photographers.



Local History Group for Barton Hill area of Bristol, where our Fey cousins lived. Active and generous group.





Sites that are gateways to more family history links
Over a quarter of a million Family History links


The Hospital records Database - information on the existence and location of the records of UK hospitals


Worldwide links to Family History sites


Links to useful Genealogy websites and a good range of information, facts and source material, medical, marine, military and other


Gateway to a mixed bag of online genealogy databases


An Australian gateway site


New Zealand genealogical links
Page of links for researching South African Family History
Useful gateway to repositories of information not only about US Military genealogy and history but also more general genealogy sites.
Canadian Genealogy & History Links





Applications, tools, utilities and downloads
Several broken links, but some useful utilities here


Import Gedcom files and create trees with drag and drop control - flexible application


Work out that relationship!


If it was £100 in 1875, what is it worth today? Very useful calculators and explanations on this site


Plenty of forms for you to use in your research


Calculator for identifying weekdays for given dates








If you are new to family history research here are some useful starting points for online research
A helpful introduction for the Newcomer, packed with sound advice and guidance. Genuki is an essential source for the family historian. The whole massive site is absolutely brimming with information on all aspects of family history. See Devon section


Useful introduction to the census for newcomers


"The oldest and largest free genealogy site". Searchable databases, family trees, message boards and much more


Access to England and Wales Births, Marriages and Deaths, to UK Censuses and many many more searchable records. Continually growing, with access to some world records. Pay-per-view or subscription


Continually developing subscription site covering BMD, census, and hundreds of other record types from around the world. Too rich to list everything. Alternative to FindMyPast. Impossible to do serious online UK FH research I think without access to Ancestry or FindMyPast


Subscription site with large number of census and BMD records and others, from around the world.

Searchable transcription of the index of registrations of Births, Marriages and Deaths for England and Wales. An ongoing project, but coverage and quality of data improves monthly. Great site! Free.


Companion site to the above. Another ongoing project. This project aims to provide a "free-to-view" online searchable database of the 19th century UK census returns.


Another companion site to Free BMD. Free searches of baptism, marriage, and burial records, transcribed from parish and non-conformist registers. Ongoing project


Over 80 million names in members' searchable family trees . Clunky software. 9 out of 10 contacts are fruitless, but the other 10% has produced some of my best contacts


The LDS site - the largest searchable collection of free family history, family tree and genealogy records in the world. Access to the IGI, and the 1881 census of England and Wales


Loads of helpful hints and tips, if a bit overwhelming


Access to the online record search system of the Irish Family History Foundation, with access to many BMD records. Credit purchase.

Scotland's People
The official government source of genealogical data for Scotland - BMDs pre and post civil registration, census returns, wills. Credit purchase.


Order your birth marriage and death certificates of England and Wales online