In this part of the site we are concentrating on providing slightly more general material that might be of help to family historians, as well as seeking help with our research from any visitors who happen this way.
Heeeelp!
Photo Gallery Mysteries



Help needed with identification of some photos.





These couples are Sharlands from Mid-Devon. We would be very grateful if anybody who identifies them would let us know who they are.
I inherited the photograph below, and don't know who these lovely ladies are. I'm almost certain they feature one or more Pitts girls from the South Hams - possibly a group of friends, or maybe sisters and cousins. This is the work of a Bristol photographer. I would love to hear from anybody who can help.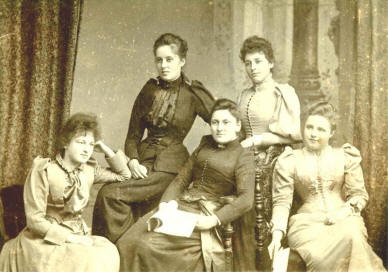 A hard disk crash lost me a lot of e-mails, and the accompanying information and source for this chap. Could he be a Frost? Who is he? I know him only as Bill, Fred's brother.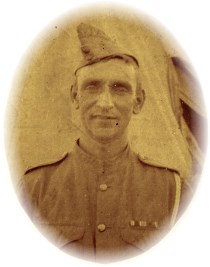 Mystery Solved. Many thanks to David Garton, for identifying the former mystery family below. They are Arscotts, who for a while kept the Temperance Hotel in Lapford. They are cousins of my great-uncle's son-in-law, Gilbert Arscott. They also appear on David's Lapford History website.
This group below includes Heards. I suspect it is a wedding group from 1940. The older man in the centre is great uncle Albert Heard. Ethel Pollard née Heard is perhaps the lady in the distinctly patterned dress third from left, and maybe that is her sister Mary Heard in glasses, crouched. I think the man kneeling in the centre could be Albert Tonkin and is his wife Joan Heard, daughter of Albert next to him or in front of him? I should be grateful if anybody can contradict or confirm those speculations, and identify others in the picture.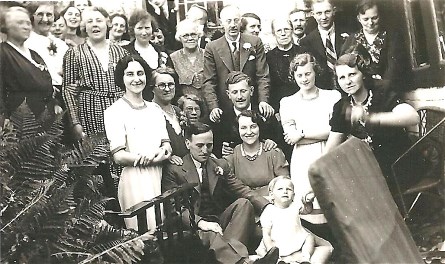 If anybody can help, please contact me.
---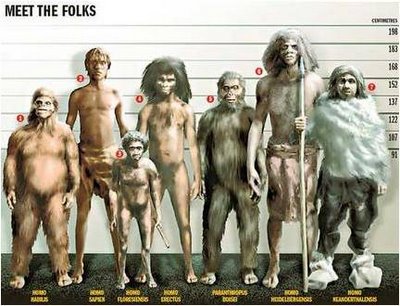 Some more ancient ancestors
Links
From here you can access a number of
links to sites
that I have found helpful in my research. I have tried to arrange them in some kind of logical order, but that will not make sense to everybody, so scroll through if you are looking for a particular subject and don't find it where you expect. And if you know of links that you think I should have included, please let me know.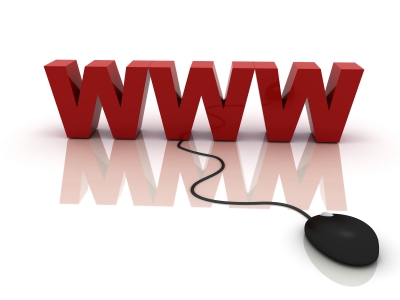 One of the most useful links I've found is this.

Many times I've wondered when I've seen queries on the Devon FHS www site why the questioner didn't Google their query, as they would have been sure to find an answer.
---

---

Whites 1850 Directory
This page has transcribed details of residents and tradespeople as they appear for selected parishes in Whites Directory of Devon for 1850.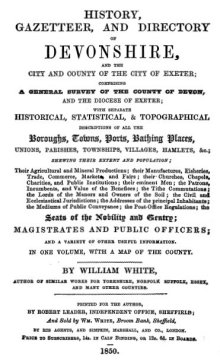 I hope that this will be helpful for some. In time it is planned that more Devon parishes be added to this page, and I hope that in time further pages with directory transcriptions for other years will follow.
---

Strangers in the box
Come, look with me inside this drawer,
In this box I've often seen,
At the pictures, black and white,
Faces proud, still, and serene.
I wish I knew the people,
These strangers in the box,
Their names and all their memories,
Are lost among my socks.
I wonder what their lives were like,
How did they spend their days?
What about their special times?
I'll never know their ways.
If only someone had taken time,
To tell, who, what, where, and when,
These faces of my heritage,
Would come to life again.
Could this become the fate,
Of the pictures we take today?
The faces and the memories,
Someday to be passed away?
Take time to save your stories,
Seize the opportunity when it knocks,
Or someday you and yours,
Could be strangers in the box.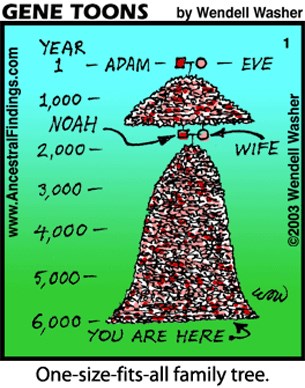 My family coat of arms ties at the back... is that normal?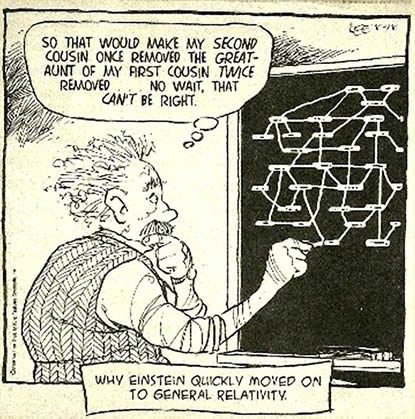 Saxon or Norman?
It is faintly amusing when some family historians "discover" that the origin of their surname of interest was derived from the name of a Norman noble who came to England with the Conqueror, or not long after. Not for them one of the alternative sources of the surname (for there is rarely just the one explanation for how a surname came into being) - that it is derived from a place, a topographical feature, or an occupation perhaps. Without a single scrap of evidence they create aspirational genealogies, based on stitching together lines of descendants with similar names, though an examination of the geography for these similar names reveals that they are from quite different parts of the country. Which strongly suggests that their surname origins are quite different, though they may be partial homonyms. If we look at the distribution of one surname that is in our family, that we know is derived from a Norman invader, we can see how common it was, and where it was found in the 1881 census. The distribution of the Boydells (right) shows clearly where they are predominantly located, around the land given to them by the Conqueror. And there were less than 1000 people with that surname. "But that is because it is an unusual name!" somebody has argued. Yes - unusual because its only origin is descended from the Norman. Boydells around Cheshire. Nowhere else much, except a few in London.

Our Pitts family is one that according to many has descended from the Norman Gervase de la Puette from Normandy. But there isn't even any evidence to support that other recorded Pitts names from the 13th century in Somerset, Surrey and Worcestershire have anything to do with Gervase. Certainly some of those with the name of Pitts will have descended from Gervase. But equally some will be named for their home village of Pett in Kent or Pitt in Hampshire. And some will be named for their topographical origins in Saxon times - "dweller by the pitt, or hollow".

Compare the distribution of the Pitts surname in 1881 with the Boydells. They were all over south western central, eastern and northern England. Did those Norman descendants really spread that much further and in greater numbers than the Boydells? No, of course they didn't, because the Pitts names recorded in 1881 were not all descendants of a single person, but families named from a range of sources. Some from Normans, some who were dwellers by the pitt. And unless you can show me the evidence for the former, it is no more likely than the latter. In fact an old chap in Stokenham church told me several years ago that the view locally was that the Stokenham Pitts were fishermen or merchants from Holland or France who settled in the village in the 16th century. I suspect that is purely speculation too. Unfortunately one of the effects of the internet is to spread myths and speculations. So if you research the Pitts origin on the internet it looks as if it is beyond doubt that all the Pittses are descended from the Normans. One wrong, most wrong.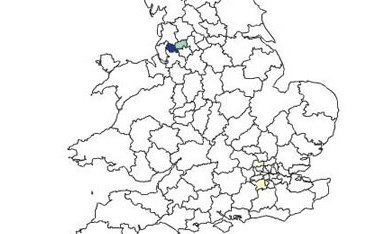 These are quotes from actual correspondence received by the staff of a Record Office somewhere.



He and his daughter are listed as not being born.

I would like to find out if I have any living relatives or dead relatives or ancestors in my family.

Will you send me a list of all the Dripps in your library?

My Grandfather died at the age of 3.

We are sending you 5 children in a separate envelope.

The wife of #22 could not be found. Somebody suggested that she might have been stillborn - what do you think?

I am mailing you my aunt and uncle and 3 of their children.

Enclosed please find my Grandmother. I have worked on her for 30 years without success. Now see what you can do!

I have a hard time finding myself in London. If I were there I was very small and cannot be found.

This family had 7 nephews that I am unable to find. If you know who they are, please add them to the list.

We lost our Grandmother, will you please send us a copy?

Will you please send me the name of my first wife? I have forgotten her name.

A 14-year-old boy wrote: "I do not want you to do my research for me. Will you please send me all of the material on the Welch line, in the US, England and Scotland countries? I will do the research."


Some unusual names in my tree:
Keturah Reep Lillicrap, b. 1878 in Halwell
Mustdie Milton, b. 1706, Crediton
Frederick Flood-Paddick, b.1886
Elisha Gullett, b.circa 1790
Seraphin Hooker, b.1837 Exeter (one of several so named)
Maurice August A Izambard, b. circa 1885
Jemima Blackburn Lancashire, b.1861, Newington
Sabina Gribble, b.1824, Crediton
Lewis Lewis, b. 1850, Crediton
Cleanthe D. May Police, b.1904, Fremantle, Western Australia
Some gems from Cornwall Record Office

Boadicea Basher, b. 1825, St Hilary
Foscurinus Turtluff Dyer, b. St Germans 1755
Honour Fraud, buried 1791, Bodmin
Obedience Ginger, married 1639, Kilkhampton
Guy Guy, Helston druggist, 1847
English Heard, married 1688, Quethiock
Orchard Betowing Champion, b. Penzance 1910
Emily Grace Pyne Coffin, married Antony, 1837
Savery Shevell, married 1618, St Minver
Prima Donna Charlotte Mildren, baptised St Mawes, Wesleyan 1870

And some from Derbyshire Record Office

Mrs. Troth Langley, by marriage in 1604 in Chesterfield
Mrs. Armey Froggatt, d.1819
Tallow Chandler, d. 1750s
Rev. Orlando Watkin Wild Forest, vicar at Doveridge, mid C19th
Walker Tickle Moore, m. Derby 1908
Hydranthea Brenda Zara Fox, b. 1869, Darley Dale
Dungsworth Ada Petrina Greenhough Potter Green, baptised 1869, Bolsover
Pharoah Doxey, born 1863
Peter Pitchfork, Baslow marriage
Flan Strann,
Barnaby Swash,
Fanny Thickpenny,
Zuba Caravalina Thorpe, born 1836 Shipley