The Sadleirs include heroes and villains, statesmen and shopkeepers, settlers and adventurers. Connected to our families by marriage, here are the stories of just a few of the notable Sadleirs.


Sir Ralph Sadleir 1507-1587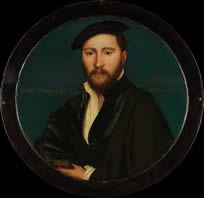 The Sadleir family can boast heroes and villains. Greatest scion of the family was probably Tudor statesman Sir Ralph Sadleir, 1507 - 1587. Five times Great Grandmother Elizabeth Crocker was the five times Great Aunt of Elsie Jackson b.1819, in Tasmania, the wife of Everly Leigh Sadleir. Everly was the son of Corrick Family star Alice, and was the ten times Great Grandson of Sir Ralph. The son of Henry Sadleir " a gentleman of small fortune", Ralph was born in 1507, either in Hackney, where he built Sutton House, or as one school of thought now has it, in Stratford-On -Avon. The subject of this portrait of a gentleman by Holbein has been identified as Sir Ralph Sadleir, but that has been disputed.

Early in his life Ralph Sadleir served in the household of Thomas Cromwell, Earl of Essex, and it seems that it was through the short-lived influence of Cromwell that Ralph was launched on his life at court. Between the years of 1537 and 1543 Sadleir was entrusted with delicate diplomatic missions to France and to Scotland which he undertook with some success. On his return from Edinburgh he was knighted and made a Privy Councillor. On the field of the Battle of Pinkie he was made knight-banneret, and shortly afterwards was appointed on of the King's two principal Secretaries of State. Henry employed him on the work of dissolving the religious houses. He was replaced as Secretary of State as his many diplomatic missions kept him busy and away from the Court. But he was appointed Master of the Great Wardrobe in 1543.

During Mary's reign he prudently withdrew from public life and remained at home. He was recalled to court on the accession of Elizabeth, became one of Lord Burghley's most trusted advisers and was again entrusted with delicate diplomatic work in Scotland. In 1568 he was appointed Chancellor of the Duchy of Lancashire. Queen Elizabeth stayed at Standon Lordship on two occasions. In 1569 he successfully put down a rebellion opf Catholic Earls in the North. Then for eight months he was gaoler of Mary Queen of Scots - a role he did not relish, as he had known her since she was a baby when he arranged her marriage to Henry VIII's son Edward in 1543. He spoke favourably of her to Elizabeth and Lord Cecil. Mary was promptly removed from his charge, but he does not seem to have forfeited the trust of Elizabeth, for she again sent him on a mission to James VI of Scotland.

Sir Ralph was extremely wealthy. Sir Walter Scott observed of him "The extent of his lands obtained him the character of the richest commoner in England". He had lands stretching from Gloucester to Kent. He seems to have acquired much property from the dissolution of the religious houses. His was one of only three great families who considerably enlarged their estates thus. As well as Standon he held Everleigh Manor in Wiltshire, where the country was ideal for him to indulge his passion for falconry. In 1588 he was appointed Queen Elizabeth's Chief Falconer. He was unable to resist his sport even whilst guarding Mary. He is said to have permitted her to accompany him on hunts. He died a few weeks after her execution.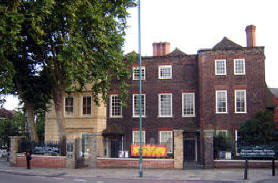 Sutton House, Hackney, built by Sir Ralph in 1535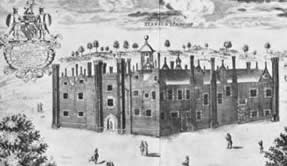 Standon Lordship. Sir Ralph was granted the Manor of Standon by Henry VIII for outstanding services to the State. He started building the Lordship in 1543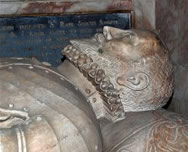 Sir Ralph's tomb at Standon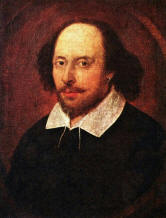 The Stratford Sadlers and the Bard of Avon
The family of Ralph's brother John were born in Stratford, and it has been suggested that the Sadleirs originated there before Henry moved to Hackney. The family were well established merchants in the town. Ralph's nephew John Sadler became Alderman and High Bailiff of Stratford.(The variant Sadler seems to have been used most frequently for the Stratford families) His son followed him with the same positions. Another son, Hamnet (or sometimes Hamlet) and his wife Judith Sadler, bakers, were close friends to William Shakespeare (left) and his family, and were godparents to Shakespeare's twins, who were named Hamnet and Judith after the couple. Hamnet was left his uncle Roger Sadler's bakery in Stratford High Street "next the corn market" at the young age of 18. Hamnet Sadler was also a beneficiary in Shakespeare's will, when the poet left him a bequest of 26s 8d in order to purchase a memorial ring. Shakespeare's daughter Judith married a Thomas Quiney - and John Sadler the nephew of Hamnet Sadler married an Elizabeth Quiney, quite probably the sister of Thomas. The Quineys, Shakespeares and Sadlers seem to have been socially close, and perhaps we should not be surprised that the families intermarried. Though to be fair some of the Sadler kinships are probabilities rather than certainties.
---
"I take the liberty of correcting Sir Walter Scott as to the proper mode of spelling Sadleir, which he spells "Sadler." As Sir Walter truly observes, "the orthography of proper names in this period was far from perfect," and, as a fact, I have met Sir Ralph's surname spelt thirteen different ways in State documents, as follows:-Sadleyr, Sadleyer, Sadleir, Sadlier, Sadliar, Sadlair (James V., of Scotland), Sadlare, Sadlar (Quenn Margaret, of Scotland), Sadller, Sadiller (Sir Thomas Clifford), Saidleir (Earl of Arran), Sadeler, Sadler. Now he last of these was no doubt often used for ordinary purposes, such as endorsing papers, &c.-the name being simply spelt as pronounced; but Sir Ralph almost invariably signed himself as Sadleyr during Henry VIII.'s reign, according to the then common custom of writing y instead of i, when it followed e (for example, "deceyve"). This custom went out as printing came more into vogue, and accordingly, during Elizabeth's reign, Sir Ralph generally wrote Sadleir. It is spelt thus on his tomb, and has been so spelt ever since." Major F. Sadleir Stoney from "The Life and Times of Sir Ralph Sadleir",1877

---
The Prince of Swindlers
The Times
, February 18th, 1856: "The body of Mr J. Sadleir M.P. was found on Sunday morning, February 17th on Hampstead Heath, at a considerable distance from the public road. A large bottle labelled "Oil of Bitter Almonds" and a jug also containing the poison (prussic acid) lay by his side." Thus the end of the Sadleir who was described as one of the most notorious embezzlers of the Victorian Age.
Descendants of John Sadleir had taken up land in Tipperary under the Act of Settlement in the 1660s, and Sadleirs were well established in Ireland by the 19th Century.This John's father Clement was described as a simple yeoman of Shrone Hill (Shronel), Tipperary.
John Sadleir (1813-1856) began as a solicitor in Dublin. But he gave up law and followed a career in banking and finance. He became a chairman or director of several banks and railway companies, and launched a newspaper. Elected to parliament for Carlow in 1847,in December 1853 he was made a junior Treasury Minister, and later was returned as MP for Sligo. Unfortunately he had been speculating wildly in land and railway stocks, in gold companies, coal mines and commodities, and he had been losing. To keep pace with his speculation he had borrowed huge amounts from the Tipperary and London and Counties banks. He began embezzling trust assets and stealing title deeds, forging bills of exchange and selling counterfeit shares. The Tipperary Bank ceased to pay on drawings against the bank, returning them as "not provided for". With the crash of the bank came the downfall of its principal creditor, John Sadleir. He had already been shamed for his part in an attempt to imprison a depositor of the bank who had refused to vote for him.As a consequence of his exposure, John Sadleir poisoned himself on Hampstead Heath.
His brother James, also an MP was found to be deeply implicated in the fraud, having conspired with his younger brother. He was expelled from the Commons on 16th February. and he fled to the Continent, settling in Zurich and then Geneva He was murdered there in 1881, whilst being robbed of his gold watch.


Another descendant of the Sadleir who settled in Tipperary in the 17th century was John Sadleir, 1833-1919. He emigrated to Melbourne on the Great Britain in 1852. On his arrival he joined a corps of police charged with restoring order in a territory that had lost serving police officers to the gold rush. One of his first postings was to Ballarat. He rose through the force to the rank of Superintendent. He was posted to command the Upper Goulburn District which brought him into contact with Ned Kelly and his gang.

Ned Kelly was the son of an Irish transportee. His family were probably engaged in cattle and horse rustling, though never convicted. Ned's run-ins with the law started at an early age. He certainly became a cattle thief; in the brushes with the law that resulted, his violence against the police escalated until a confontation in 1878 when he shot and killed three constables. After several daring bank raids, in 1880 the Kelly gang was tracked to Glenrowan. Knowing that a trainload of police were coming, the gang held 70 hostages in the local inn. The police laid siege to the hotel, and in the shoot-
out that ensued, the Kelly gang wore their famous body armour, fashioned from plough parts. All the gang members except Kelly were killed, and he was severely wounded in his unprotected lower legs. Sadleir had played a prominent role in the pursuit, and it was during this encounter that John Sadleir took over command of the operation, after Superintendent Hare withdrew, having received a slightwound to the wrist. Kelly was captured, stood trial and was hanged 5 months later. It is said that Sadleir showed compassion in his treatment of the wounded Kelly. Throughout his career he seems untypically to have demonstrated an awareness of the social dimensions that were factors in the law-breaking he encountered. A Royal Inquiry into the Kelly affair was critical of his errors of judgement. But partisan perspectives have coloured all accounts of the life of Ned Kelly, and notwithstanding the criticism, Sadleir eventually rose to the second most important role in the Stae of Victoria police.

Ned Kelly

Explore the Sadleir Family Tree:



Explore a family tree with the Sadleirs described above linked back to Henry Sadleir, b. 1480, father of Ralph.

To explore the Sadleirs further on the web, try Colin Salter's Tall Tales from the Trees. I am indebted to his site and The Sadleir Web, now sadly disappeared, for information on the family.