Arthur Smith Junaluska 1912-1978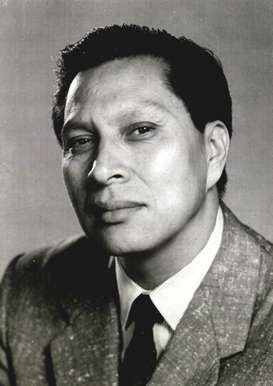 Arthur was a member of the Cherokee nation, born in North Carolina, site of the tribal home of the Eastern band of the Cherokees. His father was an electrical engineer. He was sent to a Government boarding school like many other native American children of his generation. He was educated at Maryville College, Tennessee, and at Eckels College, Philadelphia, Pennsylvania. He managed to complete four years of college and graduated with a BSc. He enlisted in 1942 and spent three years in the Army Medical Corps in World War II, and returned to the US to work as a Medical Technician and Bacteriologist, occasionally working on projects for the New York City Department of Health. He then went to the Lister School of Medical Research, London School of Medicine and worked for the South London Blood Transfusion Department, where he helped to modify a serological test process for syphilis that is now used by commercial blood banks. He was a member of the team that discovered a way of saving the "blue baby" from death. But his vocation was the theatre and his native culture. In 1945 he gave up his medical career and began acting. He trained with the Shakespeare Repertoire Group of America, became the first Indian to play Shakespearean roles, and played the classics in small repertory companies and university theatres. He gained parts in off-Broadway and Broadway productions. He rode in rodeos, and eventually started getting parts in films and television. He played many bit parts as North American Indians, South American Indians, even Indian Indians. In the fifties he began to develop a focus on his native American heritage, writing plays, producing ballets, and promoting Indian culture. Although Arthur and Betty travelled throughout the USA, Arthur did much work on the New York theatre scene, and gradually his work in the field of native American culture began to be noticed. In 1970 he was invited to attend the first Convocation of American Indian Scholars, at Princeton University, in recognition of the contribution he had made to his cultural heritage
The Nurse from Sandford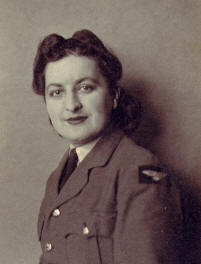 Betty Smith Junaluska née Wright (1920-2005), WAAF nurse from Sandford, could not have guessed the impact that the glamorous US Medical Corps Sergeant would have on her life when he asked her for a dance in the Tower Ballroom, Blackpool. They dated, and soon fell in love. But at the end of the war he had to return to the States. They stayed in touch however, and their love for each other was strong enough to survive separation. Prompted by her letters, Arthur flew back to England. In Exeter, in July 1948, Betty married this Cherokee, 8 years her senior, and divorced - a fact that was either unknown or unacknowledged by Betty's family. But the couple were not happy in grey post-war England, so on 28th November 1949 they sailed for New York on the M/S Batory. Betty had vivid memories of arriving in New York after she got married and of those early days settling into a huge and bustling city. She was struck by how much food they ate (after rationing in England) and all the bright lights and tall buildings and new inventions like the coffee machine that you put a nickel in to get your drink. She shared thirty years of her life with Arthur, and travelled around America, enduring the ups and downs of the career of a jobbing actor and artist, but her love for him never seemed to diminish.
Arthur's Work
He began to write plays on native American themes, including The Medicine Woman, Hell-cat of the Plains, Grand Council of Indian Circle, The Spirit of Wallowa and Spectre in the Forest. He would direct not only his own plays but was invited to direct the work of others, in New York and at events exploring Native American Culture on university campuses around the country. He is credited with having begun the contemporary Indian theatre movement with his productions in New York in the 1950s. He organized the American Indian Dramatic Company and produced , directed and starred in The Arrow Maker. In 1958 he was director of a drama workshop at South Dakota Wesleyan University. He founded and was Director of the American Indian Society of Creative Arts in New York City, and the American Indian Theatre Foundation Inc, which had the goal of establishing a permanent Native American theatre.
His appearances in TV including work as an extra, in walk-on parts and in minor roles. Typicalof his TV work, he was in the drama series Studio One Hollywood, when in the episode The Kill he appeared alongside Grace Kelly and Nina Foch, and on NBC's Kraft TV Theatre when he appeared in an episode Look What's Going On with Edward Asner and Ed Begle. He appeared in a very minor role as Mexican peasant alongside Sir Laurence Olivier, in a TV Production of The Power and the Glory in 1961.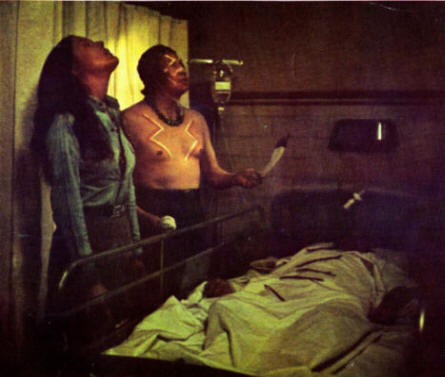 Arthur as Medicine Man Mr Blacktree in the 1971 Oscar-winning film The Hospital
One of his few film appearances was in The Hospital, a black comedy starring George C. Scott, with Diana Rigg. Writer Paddy Chayevsky won an Oscar for Best Screenplay.
He told me when I was a child that he occasionally appeared as an extra in the Phil Silvers (Sergeant Bilko) Show, but there are no credits to support this.
As well as his work in film and television and on the stage, Arthur's repertoire included lecture tours, when he would recite the speeches of Great American Chiefs, and perform traditional dances in full regalia. He made recordings of some speeches - one being the account by Red Hawk of the defeat of Custer at the Battle of the Little Big Horn, and another a double album of Great American Indian Speeches. He also narrated some folk tales and recorded these. Sadly his recordings are no longer available commercially, though copies can be found in many university libraries in the USA.
He had always been a choreographer - indeed he had taught indian dance steps to choreographer Helen Tamaris for the long-running 50s Broadway production of Annie Get Your Gun. During the 60s he began to work on the piece that was in many ways the culmination of his artistic development. He devised, choreographed, designed, directed and produced the Folk Ballet The Dance of the Twelve Moons. Based on the Native American Year of 12 Moons, or months, it comprises 12 traditional dances, with a narration that interweaves aspects of Arthur's life with the seasons. The ballet was performed in New York City, in North Carolina and also in the North West, with an all Indian cast.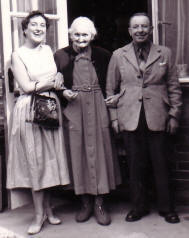 Betty with her parents during a visit to England in 1958

Whilst Arthur was a quietly-spoken gentle man, Betty was by contrast flamboyant and vivacious, and tremendously loyal to Arthur. In New York she worked as an agency nurse, and for a while looked after the dying composer Stravinsky. She was very proud of having met Jackie Kennedy. She steadfastly travelled the roads of America with Arthur and endured tribal politics and jealousy when she lived with him for a while on a reservation. But Arthur supported her equally. By 1971 she was missing her Devonshire home and family, and Arthur agreed that they should return to England. They returned in '72. They tried to promote his work in Europe, without much success. He gave some lectures, and recitals, but his career never blossomed in the UK. In 1978 Arthur succumbed to ill-health and died in Exeter. For the rest of her life Betty worked tirelessly in an effort to get his work staged in Europe, or revived in the US. She died in 2005.